Being flexible is one of the most tried-and-true methods for finding the best airfare for your travels, and Google Flights is my go-to source that makes it easy to search not only for flexible dates, but also flexible destinations. Beyond finding the cheapest prices for airfare, read on to learn solutions to common flight-booking frustrations, how to use a VPN to buy lower fares, and how travelers search for hidden-city or throwaway ticketing fares.
In each of the below scenarios, I will describe how each one works and follow-up with examples or describe a personal experience in which these methods either helped me or taught me a lesson.
How to Find the Best Airfare for Flexible Dates
If you have a destination in mind and have the flexibility to adjust your arrival and departure dates, you can use the Google Flights price calendar to find the least expensive time to fly. You can set your origin city and destination city, and upon clicking the departure date, you can scroll up to 11 months in advance and the dates with the lowest fares will be highlighted in green. Once you've selected a departure date, the price calendar will then show you the lowest fares, again highlighted in green. What's great about Google Flights is that you can filter your search between price, number of stops, times, connecting airports, airlines, and even airline alliances, and the airfares will update in the price calendar.
For example: I'm based in Madrid and want to take a long trip to Mexico City, but only if the flights are reasonable. I then type in the origin and destination, I then scan the departure dates for the lowest fare, which shows as $455 if I depart on September 5th. I select it, then scan the return dates price calendar for the lowest fare, and it gives me options for multiple dates. I choose one that brings the fare up slightly to $468, but it's still reasonable. Google Flights then shows me my options and prices for various airlines, with the lowest fares highlighted in green showing most prominently.
How to Find the Best Airfare for Flexible Destinations
My absolute favorite feature on Google Flights is the ability to search for low fares in an interactive map-view if you have set dates but are flexible on the destination. From the main Google Flights webpage (flights.google.com), you would make sure your navigation is set to "Flights" on the left-side tool bar, and then click on "Explore destinations" above the map toward the right side. Note that as of July 2019 this feature is only available on desktop, and not available on mobile view. From this webpage, you can then input your origin city, leave the destination field blank, input your specific departure and return dates, and the map will populate with update pricing for cities across the world. You can then let the low prices decide where you will travel!
For example: I'm based in Madrid and I have one week in October that I can travel anywhere but I only want to spend up to $100 on round-trip airfare. I input Madrid as the origin city, input the specific dates I can travel, and set the pricing scale to max $100. The map will then update and show me all the cities I can travel to for less than $100 during these exact dates.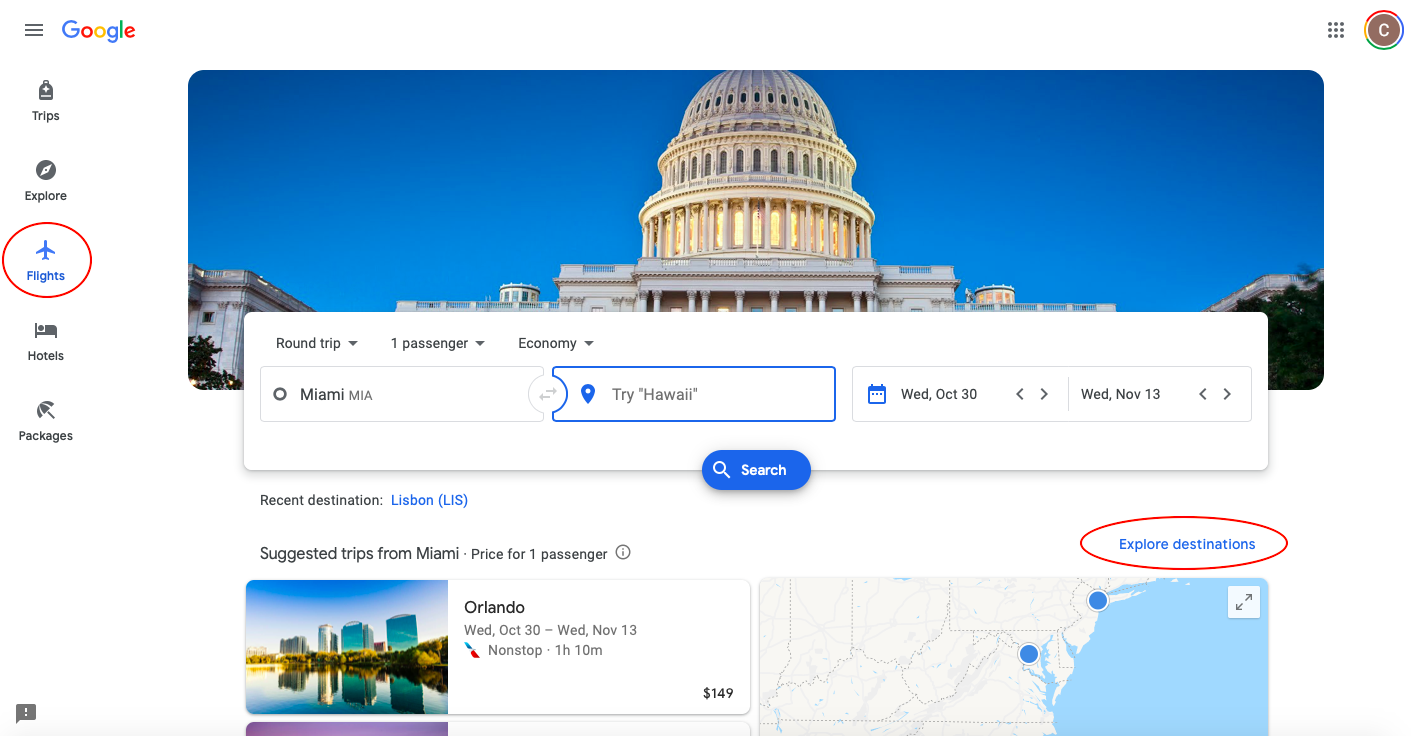 Change Your IP's Location to Access Lower In-Country Fares
Have you ever been shown a low fare on a booking site only to click through and see a total that is double the price? This often happens for domestic flights on regional carriers. It could be that you were advertised an in-country fare, which is a discounted price that is made available to residents of that particular country who are making their reservations while physically in that country. There are a few ways to "trick" your browser into thinking you are making your reservation from that particular country. Depending on the airline or country, you may need to experiment with one or all four methods to be able to purchase the in-country fare.
As soon as you type the airline's website in the address bar and press 'enter', it will usually ask you in a pop-up window which country you are searching from. Select the local country where the airline is located, and it will show you the in-country fares.

If the website defaults to a local language that you can't understand, try browsing in Google Chrome or in another browser that automatically translates the webpage.

Use a VPN to select an IP address from that country. I use HotSpot Shield, which lets me choose from IP addresses in over 70+ countries worldwide.

Add a travel notice (make it effective as soon as you want to book your ticket) to your bank card or credit card to authorize transactions in that country, as the booking will likely process in a country where you are not physically in in that moment.
My experience: I recently used this trick when booking a domestic flight for my trip to Egypt, one-way from Cairo to Hurghada. I was physically in Spain at the time, and the fare advertised on Google was €98 EUR. I clicked on the link to Egyptair's website, the fare shown there was €228 EUR! I then changed the country setting to Egypt, and the fare then updated to £1,920 Egyptian Pounds, which converted to around €98 EUR. I tried booking it, but upon checking-out the price would automatically go back to €228 EUR. I then tried again with an Egyptian VPN and would make it to the check-out page, but as soon as I tried to process payment, I would get an error message. I then went to my US bank's website, added a travel notice to my account stating I was currently in Egypt and tried to make the booking again, repeating all the previous steps. It worked!
In my experience, Google Flights is one of the few booking tools that will even show you the lower in-country fares when searching for airfare, regardless of where you are searching from. Other sites like Expedia and Orbitz will usually show you the fares eligible to you based on the IP address you are searching from.
Why You Shouldn't Book Your Reservation Directly on Google Flights
As much as I love using Google Flights to search for airfare and find the lowest prices, I do not recommend making your booking directly on Google. You may have noticed that when you find a fare on Google Flights, it will then show you a list of sites where you can make the reservation. These usually include Expedia, Orbitz, Priceline, direct through the airline, or through an airline's codeshare partner. Recently, Google introduced a new option called "Book on Google" (or "Book on Google with Priceline", "Book on Google with FlightNetwork", etc.) While the interface of the booking tool is clean and simple, it's almost too simplified in that it doesn't tell you any details or what is included within your fare like baggage fees, meals, or seat selection. Additionally, if there is a problem with the booking, Google is impossible to contact and deflects all problems to be dealt with by the airline, even during that in-between stage when your credit card has been charged, but your flight is not yet confirmed with the airline.
Lesson Learned: It was in that exact grey area where I found myself after booking an Air Canada flight directly on Google flight's portal. When booking the ticket, most of my information was auto-filled, including my frequent flyer number from United, one of Air Canada's partner airlines. (I assumed this was auto-filled because Google has access to the content in my Gmail account, which I didn't think of as intrusive but rather an efficient application of data that I have voluntarily given them.) However, upon clicking 'book', everything seemed to be processing fine until the last second I received an oddly specific error message: "Your flight confirmation could not be processed due to incorrect frequent flyer information". I thought it was annoying because the correct information was automatically filled by Google, but I removed it anyway and tried booking again. It worked the second time and I thought all was good until I saw TWO $1200 USD charges pending on the credit card I used. I searched for a way to contact Google with no success, and came across only one line of text in my Google Travel confirmation email: "Need help? Contact Air Canada www.aircanada.com" So helpful, Google. I then spent an hour on hold with Air Canada and my call was never answered (I was calling internationally, and already thought an hour was too long to wait.) I then decided to call the credit card company who said there was nothing they could do because the charges are pending. One week later, and one of the charges has gone through yet the other charge is still pending. It's an annoying inconvenience to have to remember to deal with, and a solution could have likely been expedited if I had booked either directly through the airline's site or through a trusted third party like Expedia who has their own customer service support.
Booking Multiple Legs Separately through Different Airlines
If airfare seems high for an international roundtrip flight with a connection, consider booking two sets of tickets: one roundtrip from your origin to the connecting city, and one roundtrip from the connecting city to your destination on a regional or low-cost carrier. In other words, booking an entire flight itinerary with connections (usually one long-haul flight + one domestic flight) on a full-service carrier (like American Airlines, Air France, Cathay Pacific) can sometimes be much more expensive then booking the long-haul on a full-service carrier and the regional flight on a low-cost carrier. Google Flights will sometimes show you fares for these combinations it puts together, or you can search for them manually. In both instances, you will have to book each ticket separately.
It is very important to note that if you use this method, you need to give yourself ample time in the connecting city for a few reasons: 1) if you check in baggage, you will have to collect it yourself and recheck it to the final destination when you check in for your connecting flight, and 2) in the event that your first flight is delayed and you are at risk of missing your connecting flight on another airline, the first airline will not (and is not required) to help you. When I say give yourself ample time, I suggest giving yourself a long layover of 10-24 hours so if all flights depart and arrive on schedule you will have plenty of time to leave the airport and explore the city, or if there happen to be any delays you will have enough of a buffer to make it to the next flight with no stress.
My experience: I was looking for flights from Los Angeles to Ho Chi Minh City in Vietnam, and the round-trip fare on Cathay Pacific (with a layover in Hong Kong) was showing as $961 USD. I know there are many low-cost carriers that operate within Asia so I thought to look for a round-trip flight from Los Angeles to Hong Kong, and then a separate round-trip flight from Hong Kong to Ho Chi Minh City. Lo and behold, the round-trip fare for Los Angeles to Hong Kong on Cathay Pacific was $541 USD, and a round-trip flight from Hong Kong to Ho Chi Minh City on VietJet Air was $112 USD. Even if I gave myself a budget of $90 USD a night for two overnight layovers in Hong Kong, my total would come out to $833 USD, still less than what would have been the cost of the whole trip on Cathay Pacific, and I get the added bonus of spending time Hong Kong.
Booking Throwaway Tickets to Find Cheaper Fares
"Throwaway ticketing" is a term used to describe purchasing flights that you intentionally plan on missing. Yes, you read that correctly! This is because in some instances, a direct flight from Point A to Point B will be more expensive than flight from Point A to Point C with a connection in Point B. This method in particular is known as Skiplagging, when the passenger will intentionally miss the connecting flight and leave the airport in the layover city which is actually their intended destination. Keep in mind that if you use this method, you cannot check bags (because they will be sent to the final destination), you run the risk of being re-routed at the last minute (instead of connecting through your destination, you instead will be connecting through another city), and you can only skip the last leg of your entire itinerary booked on that airline because all subsequent legs will be canceled.
One example: A flight from Los Angeles to Honolulu direct on American Airlines is $596, but a flight from San Diego to Honolulu with a layover in Los Angeles is $368. What is rather outrageous in this situation is that the connecting leg from Los Angeles to Honolulu is the exact same flight as the $596 direct route booked originating in Los Angeles. It would be worth it for many Angelenos to hitch a ride or take the train to San Diego to board the first flight, fly back to Los Angeles, fly to Honolulu for vacation, fly back to Los Angeles, exit the airport to go home, and miss the last leg of their itinerary.
Another example: You are looking to travel from San Francisco to New York City, for which the direct one-way flight is showing as $445. However, you also search flights from San Francisco to Boston with a connection in New York City, and those one-way fares are showing as $385. You could then book the second option, fly from San Francisco and upon landing in New York City you would exit the airport and miss the last leg from New York to Boston.
In other instances, a round trip flight to a destination can be much less expensive than a one-way ticket (even when comparing against low-cost carriers). You could then purchase the round-trip ticket and never show up for your return flight. Depending on the airline, you will sometimes be entitled to a "credit" (the cost of the fare minus a cancellation or change fee) to be used within one year but it can only be applied to the same route that you missed. Alternatively, you may not be awarded any credit at all, in which case the fare for your return flight is then lost- but if the total that you paid for the round-trip ticket was less than the cost of one-way ticket booked in the traditional way, then it would still be worth it.
For example: Say you are traveling in Europe (you bought a round trip ticket from Los Angeles to London that you fully intended on using), but the weeks pass and you decide for whatever reason you are not ready to go home to Los Angeles. You got a great price ($305 round-trip on Norwegian) on your original flight that got you to Europe, but if you were to postpone your flight, the new fare plus a $200 change fee could total to an additional $1000! You then look to other airlines for one-way flights from London to Los Angeles and they are also showing between $900-$1000. But another option using Google Flights is to search for a round-trip flight from London to Los Angeles. You would input your departure date as the actual date you want to travel from London to Los Angeles, and use Google's flexible date booking tool to filter through the calendars where you would select the cheapest date. You would then fly home to Los Angeles and then never take that return flight back to London.
There are potential risks involved with the "Throwaway ticketing" methods, as airlines become more strict, threaten to deactivate traveler's frequent flyer miles, or demand payment for the fare difference, as is described by Max Prosperi in a recent The Points Guy article about "Hidden-City Ticketing" or "Skiplagging", which are other words for Throwaway Ticketing.
The methods described above have helped myself or other travelers in the past, and the benefits of cost savings may come with potential risks that you must consider when making your travel arrangements. Have you tried any of the above methods? Did they work for you and would you recommend them? Let us know in the comments below!