I've been very fortunate to have stayed in Airbnbs all over the world, and my absolute favorite and most memorable experience was while I was traveling solo in Sicily, Italy. When I think of vacationing in a European apartment, the first thing that comes to mind is balcony. I've dreamed of looking over the hustle and bustle of city streets from a charming balcony complete with views of drying laundry strewn across from one building to the next.
Upon learning that I would have a few days to unwind after a press trip to Club Med Cefalu on Sicily's north eastern coast, I was excited to spend some time in Palermo, a city I honestly didn't know much about. After filtering my Airbnb search criteria for entire places that were within my price range, I began clicking through photos to see if anything would catch my eye. It didn't take long before I came across Punto e Al Capo, and after seeing the first few photos my decision was made.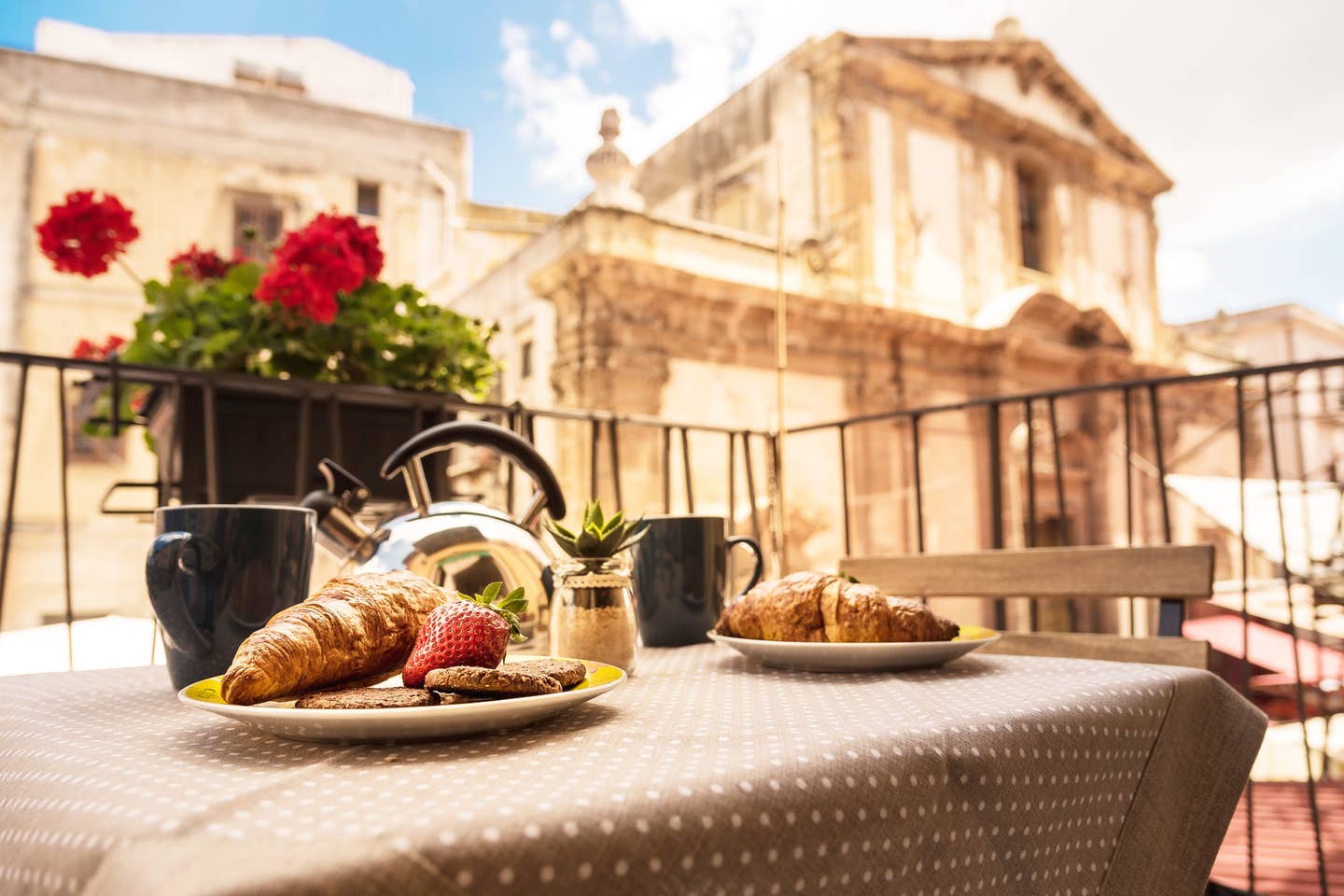 Punto e Al Capo in Palermo, Sicily
I felt like the apartment and the location were straight out of a movie. The apartment looks over Sicily's Mercato il Capo, known to be one of the oldest outdoor markets in the world. Palermo has been an important trade center for thousands of years, and the city and market is teeming with history. From the colorful local produce to the aromatic herbs, cheeses, and sweets, I found it difficult to leave or return to the apartment without buying something!
After a press trip, I like to take a few days to myself to unwind, and by "unwind" I mean organize and edit photos, write travel guides, and get to work on the number of deliverables I've promised to complete. Punto e Al Capo was the perfect place to settle in and was especially spacious for one person. Between the kitchen table and the custom-fit desk in the bedroom, I had plenty of space to work comfortably and focus. That said, I am able to focus with quite a bit of background noise which proved to be helpful as the Mercato il Capo down below can get quite busy. If you are sensitive to or bothered by noise then I would suggest bringing ear plugs. This apartment is worth it!
As far as nightlife goes, I personally am not one to venture out alone and check out the scene when traveling by myself, but I found the location of Punto e Al Capo to be perfect because I could look down from the balcony onto the lively street below and feel like a part of the action from the comfort of my own home-away-from-home.
Punto e Al Capo can accommodate up to five guests, with a queen bed in the main bedroom, a twin bed in the extra bedroom attached to the main bedroom, and a sofa bed in the living room. The price is based on the number of people, making it affordable for solo travelers and couples. Not only was the apartment well-appointed and in the best location, my host Melania went above and beyond to make me feel welcome. Without even having to ask, she provided me with nearby recommendations of places to eat, things to do, and nearby bus routes. When it was time to leave, she even personally drove me to the airport shuttle and wished me well! Staying at Melania's place was the most delightful experience I've ever had with Airbnb, and if she could be awarded with more than just one Airbnb Superhost badge, she is definitely deserving!
If you are visiting Palermo and Punto e Al Capo happens to be available, do yourself a favor and book your stay right away! If you are new to Airbnb, click here for $30 USD off your first stay.
This post contains affiliate links and at no cost to you, I may earn a commission which allows me to keep this site free for all readers. I only recommend products and services that I personally use and believe in.